Wednesday Night Dinners
Every Wednesday night we offer a gourmet dinner.  We only serve one item so you only have one choice.  Dinner service begins around 5:30 and goes until about 9:00.  We usually run out so you if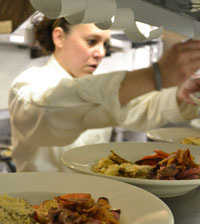 you really want a meal you might want to get here early.
This dinner is almost always the low price of $12.  On a rare occasion if we are serving a meal that is particularly expensive we might raise the cost.  We might lower it if our costs are very low.  Generally speaking though the meals are always $12.
Please see below for the latest Wednesday Night Dinner.  You may also look at an archive of previous meals HERE.
Pork belly confit with an apple caramelized onion compote, white beans with white truffle oil and sage accompanied by sauteed turnip greens and red chard. $12
Read more...
0 comments
---