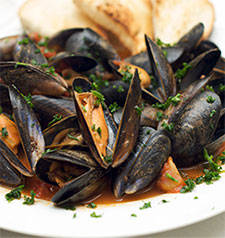 Try our famous mussels
Our Prince Edward Island Mussels are steamed and served in a white wine, garlic, butter sauce.  They are served with grilled bread, frites and two homemade aoili's.
Available Thursday afternoon, Friday, and Saturday but they often sell out.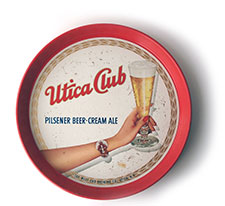 Home of the Utica Club Side
Not in the mood for fries? No problem, swap them for a Utica Club 16 0z. draft.
APPETIZERS
Fries 4
Poutine 6
A common Canadian dish, made with french fries, topped with a light brown gravy-like sauce and cheese curds.
Onion Rings 5

Spinach & Artichoke Dip 7
SOUP
Black Forest French Onion Soup 4
Made with Saranac Black Forest & topped with garlic croutons and melted provolone cheese.
Soup of the Day 
Ask your server for today's feature housemade soup.
TRADITIONAL PUB FARE
Scotch Eggs 9
Hard-boiled eggs wrapped in pork sausage, rolled in Panko bread crumbs and Parmesan cheese, and then deep-fried. Served on a bed of fresh salad greens with our housemade Roasted Pepper Aioli.
Bangers & Mash 10
Pork sausages slowly braised in Guinness Stout over rustic smashed potatoes and finished with Guinness and onion gravy.
Mussels & Frites 10
Prince Edward Island mussels cooked in white wine, garlic, parsley and a touch of heavy cream. Served with frites and white-truffle parmesan aioli and/or lemon pesto aioli made in house. 10 (Friday & Saturday)
Charcuterie Plate 10
A rotating selection of cured meats, hard, semi-hard, and soft cheeses and accompianments. Please ask server for todays selection.
SALADS
Pub Salad 8 with Chicken 10
Fresh salad greens tossed with Ithaca Apricot Fresh salad greens tossed with Ceasar Wheat Vinaigrette, topped with Granny Smith dressing and Parmesan cheese, topped apples, walnuts and crumbly blue cheese. with garlic croutons.
Caesar Salad 7 with Chicken 9
SANDWICHES
All sandwiches are served with your choice of side:
French Fries
Side Salad
Housemade Potato Salad
Utica Club Draft
Onion Rings +$2
Bowl of Soup +$2
Chicken Panini 9
Roasted chicken breast with oven-roasted tomato, caramelized onion and fresh mozzarella, finished with our house pesto sauce.
Turkey-Artichoke Panini 9
Sliced turkey breast smothered with our housemade spinach & artichoke dip.
Cuban 10
Roasted pork loin, baked ham, dill pickles, Swiss cheese and mustard on Heidelberg baguette.
Three-Cheese and Tomato Panini 7
Swiss, provolone, and fresh mozzarella with sliced tomato.
Grilled Ham & Swiss 8
Virginia baked ham with Swiss cheese and mustard.
Turkey Sandwich 7
Sliced turkey with your choice of lettuce, tomato, red onion, swiss or provolone cheese, mayo or mustard.
Roast Beef Sandwich 8
Our house roast beef piled high with lettuce and tomato, finished with our horseradish sauce.
BLT 7
Bacon, lettuce, tomato and mayo on toasted bread.
Turkey Club 8
Sliced turkey breast, crispy bacon, lettuce, tomato and mayo on toasted bread.
Food Availability
Monday: 11:30 - 10:00
Tuesday: 11:30 - 10:00
Wednesday: 11:30 - Sellout*
Thursday: 11:30 - 10:00
Friday: 11:30 - 10:00
Saturday: 11:30 - 10:00
Sunday: 11:30 - 3:00**
*Wednesday Night Dinner
** Brunch