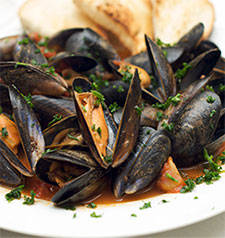 Try our famous mussels
Our Prince Edward Island Mussels are steamed and served in a white wine, garlic, butter sauce.  They are served with grilled bread, frites and two homemade aoili's.
Available Thursday afternoon, Friday, and Saturday but they often sell out.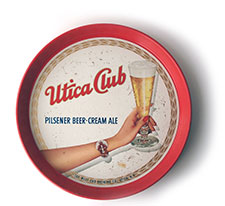 Home of the Utica Club Side
Not in the mood for fries? No problem, swap them for a Utica Club 16 0z. draft.
STARTERS
Fries 4
Onion Rings 5
Poutine 7
French fries with cheese curds from Stoltzfus Farm in Vernon Center and smothered with our house made brown gravy and topped with green onions.  With Bacon 8
Charcuterie Plate 10
A rotating selection of cured meats, hard, semi-hard and soft cheeses and accompaniments.
Caesar Salad 7
Fresh salad greens tossed with house made Caesar dressing and shredded parmesan cheese, topped with garlic croutons. With Chicken 9
House Salad 8
Fresh salad greens with kalamata olives, roasted red peppers, cucumbers, pickled red onions, and balsamic dressing. With Chicken 10
Soup of the Day
Cup 3.50/ Bowl 4.50
SANDWICHES
Muffaletta Sandwich 10
Our version of this New Orleans favorite with salami, mortadella, capicolla, provolone cheese and our spicy olive spread on a sesame roll.
Chicken and Greens 9
Roasted chicken breast, Utica greens, provolone cheese and spicy mayo on an Italian baguette.
Roasted Red Pepper Caprese 7
Roasted red peppers, fresh mozzarella, provolone cheese and pesto on a cracked wheat ciabatta roll.
Shrimp Po Boy 9
Cajun panko breaded fried shrimp with a spicy remoulade, American cheese, lettuce and tomato on an Italian baguette.
Turkey Club 8
Sliced turkey breast, crispy applewood bacon, lettuce, tomato and mayo on toasted Heidelberg French Peasant bread.
ENTREES
Bourbon Barbeque Ribs 12
Slow cooked pork ribs covered in our Maker' Mark Bourbon barbeque sauce, served with fries and macaroni salad.
Spanish Chicken and dumplings 10
A  Spanish influenced stew, with chorizo, red peppers, crimini mushrooms, saffron and our delicious parsley dumplings.
Crab Mac and Cheese 10
Macaroni and cheese with lump crab meat and broccoli florets topped with green onion and smoked paprika.
Cheddar Cheeseburger 10
Our pasture raised beef patty from Bach Family Farm in Mohawk, with cheddar cheese, applewood smoked bacon and our tangy red onion marmalade
Food Availability
Monday: 11:30 - 10:00
Tuesday: 11:30 - 10:00
Wednesday: 11:30 - Sellout*
Thursday: 11:30 - 10:00
Friday: 11:30 - 10:00
Saturday: 11:30 - 10:00
Sunday: 11:30 - 3:00**
*Wednesday Night Dinner
** Brunch