We Take Our Food Seriously Too
Although we are mostly known for our large beer selection, we take out food VERY seriously. Our menu has evolved over the years from basic pub food to a perfect mix of comfort and contemporary foods. We decided to go with a smaller menu that we could perfect and keep absolutely fresh.
If you haven't had our burger you are in for surprise. We believe and have been told many times that our burger is the best in the area. We use locally pastured beef and Utica Bread brioche rolls to deliver the freshest and highest quality burger possible.
Be sure to check out our mussels and frittes available Thursday until sold out.  The Prince Edward Island Mussels are steamed in a white wine, garlic and butter sauce. They are served with toast points, frites and parmesan truffle aoili.

On Wednesday nights we offer a gourmet dinner. Each week will take you on a culinary exploration of our world's most delicious cuisines. The weekly dish is always a surprise! Regular Menu also available. The Wednesday dinner is updated every Monday so check back often to see what we are making this week!
Every Sunday we offer Utica's best brunch. Our brunch menu is ever evolving and will always excite and please. Sunday's in Utica are alive and well, and we would be honored to have you spend yours with us. For the latest complete brunch menu please click the link below.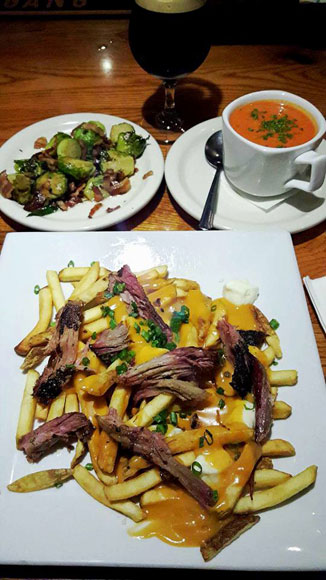 Wednesday Dinner
Try a special meal created by our executive chef.
Wednesday Dinner
Locally Sourced Products
Where possible, we use locally sourced products.  Not only does this provide a tastier and healthy product but it really helps our local economy.  Every few month we seem to pick up a new farm or producer.  One of our chefs (Jackie) even runs a small farm and CSA.  She provides excellent produce and particularly her heirloom tomatoes are incredible.  Here is a list of a few local farms and producers that we currently buy from.

Cupboard Earth
Clayville, NY
Chef Jackie's produce and duck eggs.