History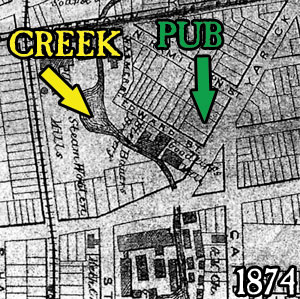 The History of Nail Creek
The Nail Creek once ran west of Edward Street where the Matt Brewing Company currently resides.  It supported many brewing related businesses such as maltsters and brewers as long ago as the late 1700's.  At the beginning of the twentieth century however, Nail Creek was engineered to flow underground to make way for a steadily growing population.  It currently runs underneath the Matt Brewing Company and its Boilermaker Post-Race Party parking lot.
Upon first hearing of the Nail Creek's existence, it became clear to us that the name was perfect because of the creek's strong relation to local brewing traditions and history.
The building now known as Nail Creek Pub & Brewery was purchased from the city of Utica in 2003 when the three-family house was scheduled for demolition.  The property had not been lived in (legally) since the early 1990's and had fallen into great disrepair.  When standing in the basement one could see clearly through every floor, through the roof and straight to the sky above. Fireplace mantels, copper piping and door knobs were among the many items stolen while graffiti decorated the interior walls.  Pub owners Chris and Tracy Talgo spent several years rehabilitating the building.  Beginning upstairs, they created a livable, comfortable apartment before starting construction on the Pub below.
The first floor was originally two separate apartments.  With a shoe-string budget, the couple completed an extensive remodeling of the entire downstairs floor.  Except for the exposed brick walls, everything that can be viewed in the Pub is all new;  what was once a dilapidated barn in the back has now become a game-room, kitchen, brewery, and an office.
The design for the atmosphere of the Pub was taken from college memories during a semester abroad by one of the owners.  That trip was considered at the time to be highly unsuccessful, academically speaking of course.  This lack of academic success, however, did allow for extensive extracurricular "research" into European pub life which now seems truly practical.