About
Hello and welcome to Nail Creek Pub & Brewery. We opened our doors in March of 2008 with the intent of bringing craft beer to the Mohawk Valley. At that time, most people said that the areas citizens didn't want craft beer. They told us that nobody would buy it. Luckily we proved them wrong! Business has been great and 99% of the beer we sell is pure, delicious, craft beer.
We here at Nail Creek Pub & Brewery like to sit down at a table with some good friends, great beer and just bullshit. We enjoy having music in the background, but when the volume starts to encumber conversation, it's too loud. We serve our beverages the right way and with the utmost care. Our food is always fresh, hearty, and delicious. We like the atmosphere to be relaxed and laid back. Expect us to treat you with respect and we expect the same in return. Last but not least, we expect you to have a darn good time. So stop in and grab a pint, we look forward to meeting you!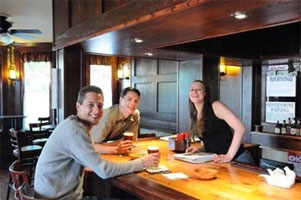 We do not support the mass produced, watered down, flavorless beer that has dominated the industry for so many years. It is with great pleasure that we can observe a growing trend in the beer market that is leaning in the direction of craft brewing. Craft brews are still way, way behind in market share but none the less, that market share is growing and that makes us very happy.
The selection of craft beers available at Nail Creek Pub is the best in the Mohawk Valley. Approximately 60 bottled beers are available as well as 12 drafts that rotate to keep things fresh.  Please don't forget that WE BREW OUR OWN BEER!
In addition to great tasting craft beer, we also offer a fine selection of food. Patrons can expect to receive a hearty and satisfying meal. Our selections include a wide variety of grilled and deli sandwiches as well as traditional pub European pub food such as "scotch eggs" and "bangers & mash". Stop in on Wednesday night when we prepare a gourmet meal for a rock bottom price. Be warned though, we only offer one item so check the website to see what it is.
If you appreciate beer, food and good people as much as we do (and that's a bold statement), you will surely love the Nail Creek Pub!