About Nail Creek Pub
Hello and welcome to Nail Creek Pub & Brewery. We opened our doors in March of 2008 with the intent of bringing craft beer to the Mohawk Valley. At that time, most people said that the areas citizens didn't want craft beer. They told us that nobody would buy it. Luckily we proved them wrong! Business has been great and 99% of the beer we sell is pure, delicious, craft beer.
If there is one thing that people know about Nail Creek Pub & Brewery it's that we are a friendly place.  We like to sit down at a table with some good friends, great beer and just bullshit. We enjoy having music in the background, but when the volume starts to encumber conversation, it's too loud. We serve our beverages the right way and with the utmost care. Our food is always fresh, hearty, and delicious. We like the atmosphere to be relaxed and laid back. Expect us to treat you with respect and we expect the same in return. Last but not least, we expect you to have a darn good time. So stop in and grab a pint, we look forward to meeting you!
We do not support the mass produced, watered down, flavorless beer that has dominated the industry for so many years. It is with great pleasure that we can observe a growing trend in the beer market that is leaning in the direction of craft brewing. Craft brews are still way, way behind in market share but none the less, that market share is growing and that makes us very happy.
The selection of craft beers available at Nail Creek Pub is the best in the Mohawk Valley. Approximately 75-100 bottled beers are available as well as 12 drafts that rotate to keep things fresh.
Although we are mostly known for our large beer selection, we take out food VERY seriously.  Our menu has evolved over the years from basic pub foods to a perfect mix of comfort and contemporary foods. We decided to go with a smaller menu that we could perfect and keep absolutely fresh.
If you appreciate beer, food and good people as much as we do (and that's a bold statement), you will surely love the Nail Creek Pub!
The Nail Creek once ran west of Edward Street where the Matt Brewing Company currently resides. It supported many brewing related businesses such as maltsters and brewers as long ago as the late 1700's. At the beginning of the twentieth century however,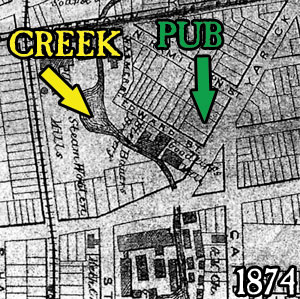 Nail Creek was engineered to flow underground to make way for a steadily growing population. It currently runs underneath the Matt Brewing Company and its Boilermaker Post-Race Party parking lot.
Upon first hearing of the Nail Creek's existence, it became clear to us that the name was perfect because of the creek's strong relation to local brewing traditions and history.
The building now known as Nail Creek Pub & Brewery was purchased from the city of Utica in 2003 when the three-family house was scheduled for demolition. The property had not been lived in (legally) since the early 1990's and had fallen into great disrepair. When standing in the basement one could see clearly through every floor, through the roof and straight to the sky above. Fireplace mantels, copper piping and door knobs were among the many items stolen while graffiti decorated the interior walls. Pub owners Chris and Tracy Talgo spent several years rehabilitating the building. Beginning upstairs, they created a livable, comfortable apartment before starting construction on the Pub below.
The first floor was originally two separate apartments. With a shoe-string budget, the couple completed an extensive remodeling of the entire downstairs floor. Except for the exposed brick walls, everything that can be viewed in the Pub is all new; what was once a dilapidated barn in the back has now become a game-room, kitchen, brewery, and an office.
The design for the atmosphere of the Pub was taken from college memories during a semester abroad by one of the owners. That trip was considered at the time to be highly unsuccessful, academically speaking of course. This lack of academic success, however, did allow for extensive extracurricular "research" into European pub life which now seems truly practical.
I think that my absolute favorite thing to hear when someone walks into Nail Creek for the first time is…  "WOW, how old is this bar?"  This is the story about how this old, tired, 3-family house came to be Nail Creek Pub…
The whole project of renovating the building took about 5 years.  The very first project that was accomplished was to put a new roof on the building.  The one that existed was in terrible shape.  The hole in the roof and the water damage it caused was extensive.  At the time of purchase, you could stand in the basement and look up through the 1st floor, second floor, attic floor, and roof and get a good look at the sky.  Once we had the roof on, we painted a bedroom while plumbers got the bathroom toilet and bathtub (not shower) to run.  Then we moved in!  My wife cooked out of a hot pot on the bathtub wall.  I can recall thinking how nice it would have been to have a sink…
We lived in these conditions for some time as neither of us made much money.  We slowly would purchase things and install them little by little and every month a few more things got completed.  By the end the third year, 95% of everything was completed and that is where it stayed.  I believe that there is still one kitchen countertop that was never attached, a few thresholds that have yet to be completed and a door knob or two that is missing.  It was however, very livable and time to move onto getting the bar ready.   I then took about a year or so off from renovation to write a business plan and drink heavily.
Like the upstairs, the downstairs was a complete gut rehab.  I recall my friend Keith DeStefanis and I doing some serious demolition one day while Bach played at full volume.  Bach as it turns out is great to demo with.   Very inspirational!  After most of the demo was completed was about the time I finally found funding for the rest of the project.  Then I was able to bring in some contractors and really get things moving.
The property consisted of the house and a garage in the back that had a barn attached to it.  The first order of business was to attach the house to the barn.  This was shortly followed up by cutting up the concrete in the barn and garage to allow for new drainage to be installed in support of the proposed kitchen and brewery.  It was a tense day for one contractor when a crackhead walked into the construction site (during construction) and somehow managed to abscond with a giant concrete saw by wheeling it behind his bike.  The saw was found the following day pawned at a shop around the corner.  With everything demolished, it was time to install the electric, plumbing, heating and all that other crap that is so damn expensive.  With the bulk of the money there, the contractors did a great job…minus one idiot.  I did learn some lessons though and that is what life is all about.
With the utilities in it was time to make the place look nice.  The first floor, which was originally two apartments, had a structural support wall right down the middle of the building; that had to go.  When you sit at the bar you are actually sitting at what was once that structural wall.  I was able to integrate the wall into the bar design.  The columns that seem to hold up the sophit above the bar actually hold up the entire building.  They do, I feel, add a nice design element and I was happy to be able to incorporate that into the bar.
"Code compliance"… How I have come to hate phrase!  I know that it's for safety reasons and all but it's just a pain.  The extra expenses that come along with fitting codes almost make projects prohibitive.   I remember one instance when we had to put in two layers of 3/4" drywall on the ceiling with some kind of fire block in the middle.  The thought that goes into converting a residential space to commercial is quite exhausting and not to be taken lightly.
The brick that was exposed during demolition was really starting to look like a good choice as the space was developing.  Once we put the tile floor in for the bathrooms, kitchen and bar, we put the wood floor in.  The contrast of the wood with the brick was beautiful.  We were really moving along now and getting things done.  While all those little details of finish work were starting to come into play, my mind was really having fun projecting ideas onto the space.  I would like to note that when thinking about flooring that a great option is "C" grade flooring.  I purchased ¾" cherry flooring for less than $1 a foot.  The wood comes with many holes, knots, scuffs, scrapes and general defects but with time and care the end product looks better than normal flooring ever could.
Sometimes you just get lucky and I happen to with my neighbor Peanut.  Peanut was instrumental with the woodwork in the pub.  I designed the bar itself in some old version of AutoCAD I found and gave it to him to build.  He had the bar completed in no time and started on the trim work.  I learned much during this phase of the project about finish work.  For those who don't know much about it, just have to confidence to try it and you will find it's not that hard, just intimidating as all hell.  With my new found skills I was able to re-trim the windows, cover up water pipes and the like with wainscot, and build a new mantel.   For a bar top I used "C" grade oak and covered it with boat poly.  You might notice some imperfections on the bar top.  That came as a result of the poly flowing through the flooring like a sieve.  I tried to fill the holes with clear craft glue but the poly ended up reacting with the glue and getting milky.  It looked fine though, I'm not bothered by it and no one ever notices it anyway.
The exterior work I did mostly myself during a cold week in spring with a boom I rented.  My helpful neighbor, Peanut, redid the wood shakes and patched up the sophist and fascia.  With the new shakes up, I painted the exterior.  My head always felt funny after spending about 10-12 hours in the air.  There is a gentle rocking and when you get back to solid ground your mind has a slight feeling that you're still going back and forth.   Peanut rebuilt the porch which was in absolute terrible shape.  I should note that I changed the deck a year or so later and added an awning.  This is great in the summertime and it even seems to visually fit the building naturally.
About the last thing I did was one of the worst.  My side door opening was 4 inches to small so I had to cut it larger.  I rented a stone saw and began the fun…  I built what I thought was an elaborate floor to ceiling dust containment structure.  Understanding how much dust is put up in the air when cutting red brick cannot be explained, it can only be experienced.  When I completed the cutting my entire body was red, minus the spot where my goggles were.  My dust containment unit did not come close to living up to its intended use.  There was dust everywhere…  My wife had just cleaned everything the day before so she was not too happy about finding a light covering of dust on every single exposed surface the following day.  Once she saw how pathetic I looked covered entirely in dust, she took pity and cleaned it up.
I think, around a day later, I had the inspectors come and our liquor license arrived that same day.  It had hinged on a certificate of occupancy.   At this point I could only afford 4 kegs and a few bottles of liquor, but we were open for business none the less.
The whole idea of Nail Creek Pub & Brewery stems from about 6 months that I spent studying abroad in Norway.  After my first week at the University of Bergen I decided I was going to stop going to class and simply take the exams at the end of the semester.  I had better things to do such as drink, fish and bullshit with my new formed foreign friends.  Long story short, I came back to the USA with: 3 credits, extensive debt, and a new formed love for PUBS.
I had always enjoyed bars and drinking since well before I could legally enter them, but what I found in Norway was different.  They had all kinds of small pubs on almost every corner.  I would be at the pubs at noon on Saturday to watch football (soccer) with the locals.  I would stop in the pubs for a pint on my way to do small chores such as groceries or laundry.  I would get totally pissed (drunk) to the point that the next day my friends would have to fill me in on what happened the night before.  I would stop in for a good hearty meal, say hello and then simply be on my way. The pubs were a place where I could always find a friendly face, have a conversation and simply just relax.
When I returned stateside, I severely missed the pubs that I left behind. Let's not for one moment think that I don't enjoy going to bars in the states. Anyone who has met me can assure you that I love them and have spent much of my income getting to know them. Bars here seem more to be a place to just go and get hammered. I find that the sense of community that occurs in European pubs does not manifest itself here.
When I said that I liked to go to bars, I meant it. About 3 years after I moved back to the USA, I was walking back to my car from happy hour at my favorite local bar and I happened to come across a house for sale about 100 from the bar I just left. Three months later I bought a giant piece of shit brick house. Rain leaked all the way to the basement, the inside was full of graffiti and transient trash, the doorknobs missing, mantels missing, copper missing, windows broken, and a long list of problems that would make "The Money Pit" look like move in condition. This was something that only a 23 year old drunkard would even think about buying. The brick structure was sound and it was right next door to my favorite bar. What 23 year old full of piss and beer wouldn't jump on this?
I bought the house about 4 years ago now, and have spent much of my time rehabilitating it. The upstairs and attic are now an actual functioning house. Much different than when I first moved in with only a small bedroom and bathroom. It was all around a real learning experience I had very little carpentry skills and no money to have it done for me so I had to learn on the job. There were a lot of minor injuries, a lot of things got done twice but in the end a lot was learned as well.
About 2 years ago I started to think about opening up a pub. A place just like the ones I left behind in Norway. Nothing like the pubs that I have so many fond memories of existed here. I figured that when the area found out what a true pub was like that they would love it and I could make a bit of cash as well. Not to mention the fact that I could give myself the opportunity that every man wants… to build the perfect pub!
Aug 14, 2007
The day that we opened our doors for the first time was one CRAZY day. Here is the short description of what happened…
I had taken the week off of work to get everything finalized and to get the bar open. It was Friday, and I was running behind. There were several events that needed to occur in succession.
1)      Electrical Permit
2)      Certificate of Occupancy
3)      Liquor License
4)      Booze
It was May 23, 2008 and just after 2 pm and the electrical inspector was supposed to be there at noon. I was just about to flip out when in he walks. After a 30 minute THOUROUGH inspection and 15 minutes of filling and exchanging paperwork I finally had the permit. So I drove to City Hall like a bat out of hell. When I get there I realize I had forgotten the check. "FUCK, FUCK, FUCK!" I ran back to my car and drove back even faster. I left my car running in the middle of Varick St while I ran into the pub to grab the damn check. I drove back to City Hall in record time and sprinted from my car to the codes office. After quickly exchanging and filling out paperwork I had my Certificate of Occupancy. This was the final document I needed to complete the saga known and a liquor license application.
I sprint back to my car and zip to the throughway as fast as possible. Being that its ninety plus degrees outside, humid, I'm frazzled, and I just did more running then my combined previous years total I'm sweating like hell. Even my ass is sweating! So I open all the windows and my sunroof and put the pedal to the medal. Im going 85-90 down the throughway. The car is like a wind tunnel and small light objects are whipping all around but Im cooling down and getting my shit back together. At this point I have a 30 minutes for a 40 minute drive.
Calling up the liquor authority I am informed that they are closing sharply at 4:00. I get some quick directions from them on how to get there and I step on the gas.
When  I get there, I find a beautiful parking spot right outside the building. (looking back, this was the deal maker!) I jog into the state building as running might have caused me to get tackled by security. I get my pass and after waiting FOREVER for the damn elevator I get, get to my floor job down the hall. I see a door closing and its MY DOOR! FUCK! I bound down the hallway and stick my foot in the door just as its closing. IM IN! I once again exchange and fill out paperwork. Saying thank you I job back to my car get back on the throughway heading home. I have my liquor license but I have not booze.
I drive very fast back but not the same jackass fast as on the way there. I stop into McCraith beverage at about 5 of 5pm and grab two kegs of UC and two kegs of Saranac Pale Ale.   Arriving at the pub at about 5:05 I throw the kegs in the cooler and tap them.
At 5:15 we open the doors.
Our first customers were Damon and Keith from the Saranac Brewery, Tito, and two others. Unfortunately I lost the damn photo when my phone died. They stumbled in seconds after turning my only neon on.
At about 6:00, the highly distinguished and respectable Tom Batson grabbed me by the arm and said "You have got to get outside now!" I was figuring that there was some kind of trouble outside so I hurried outside and was met with all smiles on the porch. Everyone pointed up toward the sky. Looking up, I saw the largest rainbow I have ever viewed in my life. In fact it was a "double" rainbow as there appeared to be two rainbows on top of each other. The rainbow was directly in front of the pub! It was brought to my attention that it was good luck omen. (I think it was as everything has been going great ever since). Take a look at a video of it…
http://www.wktv.com/younews/19280549.html?vid=a
By 7:00 we were packed and in the weeds. I had never bartended a minute in my entire life and it was only Tracey and I behind the bar. We got through it with a bit of help from friendly Chip O'Donnell and a few others and had a great, successful night.
I thank those of you who stopped by that day. We were able to start to build an inventory as we had no money at all left from getting the place open. You set us in the right direction.
Cheers,
Chris
Once again, this is direct train of thought and not spell or grammar checked.
Sep 8, 2008
Hours of Operation
Monday – Saturday
11:30am – 2:00am
Food Until 9:00pm
Sunday
10:00am – 5:00pm
Food until 2:00pm
Contact
Nail Creek Pub & Brewery
720 Varick St.
Utica, NY 13502
(315) 793-7593
The Week We Opened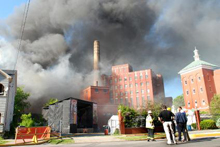 We opened in May of 2008. Six days later, the Matt's Brewery almost burned to the ground. Flaming bits of cardboard were landing on our roof.  The fire could have very easily jumped to Nail Creek Pub.
Did You Know?
Did you know that since the day Nail Creek opened that we have sold more Utica Club per year then any other establishment in existence? That is the definition of supporting your local brewery
Our Sister Businesses

Location
The Nail Creek Pub & Brewery is just two minutes from the New York State Thruway (I-90) and even closer to area hotels.  The pub is located in the middle of Utica's entertainment and nightlife hotspot known as the "Brewery District".  The beautiful Matts Brewery sits right behind the pub and many excellent photos have been taken of the scene.  The high concentration of bars and restaurants makes the Brewery District a great destination to see what Utica nightlife is all about.
Nail Creek
Oh ya! This is where you want to be!